POSTCARDS FROM AFRICA
My interest in wildlife photography stems from:
Experiences in childhood days growing up in small South African country towns,
Once out of home always enjoying the outdoors whether bush walking, camping or visiting my in-laws farm in SA,
Travel in later years to African countries we could not visit in the apartheid years in SA, and
Many wonderful experiences in the Australian bush and countryside.
In my childhood days, living in country towns, bordering on relatively unspoiled African bush, I developed a love for the outdoors and nature.
Early years, living on the border of South Africa and the then Rhodesia, brought out the hunter and horse rider in me. Unfortunately hunting birds in the African bush for trophies was what life was about in those days for boys. Fortunately for my feathered friends, I had a very inaccurate air rifle and could not boast trophies such as my school friends often could. I'll never forget my sister's tears and the hiding I got when I shot the beautiful sugar bird in our garden. We had not yet learned the lesson of 'take nothing but photographs'.
I got to know the habits of birds, animals, snakes, scorpions and other insects well and could identify many of the plants and trees. On our forays into the veld, we came across impala, kudu, bushbuck, warthogs, leopards, baboons, monkeys, pythons, zebras, wildebeest and buffaloes.
I spent some of my teenage years in semi-arid, copper rich Namaqualand, world famous for it's scenery and wild flowers. Rambling amongst the kopjes (hills) with waterfalls and streams gurgling everywhere after the rains; the flowers, rugged rocky landscape, flowing streams and blue skies provided perfect harmonies of form and colour. Photography to me however meant capturing people – with all this incidental splendour in the background.
My early working and married life saw wonderful excursions into wilderness areas of great scenic beauty in Southern Africa.
Trips were:
The Tsitsikama Nature Trail in the Eastern Cape.
The Fish River Canyon in Namibia – then South West Africa.
Canoe trips down the Vaal River in the Transvaal.
Rambling through the mountains in the beautiful fynbos (wild flower areas) of the Western Cape.
Visiting my in-laws on their farm in the Transvaal highveld.
These forays into nature, cemented my love for African wildlife – flora and fauna.
In Australia – I needed to refocus. A different lens was required to see and experience the wonderful flora and fauna and wildlife in this equally amazing place. It was here that I developed an interest in wildlife photography – in retirement years. This interest co-developed with an interest in zen – living in and capturing the moment – what better way than capturing this in photographs!
In these photographs on display today, I have attempted to bring out the following aspects:
A tale to tell with each photograph or message the subject is trying to convey.
The light and how it hits certain objects and is blocked, causing shadows in others.
The quality and colour of the light.
The shapes and lines of the objects and the natural, built in composition of the area.
Can the other senses be invoked – e.g. can you 'feel' the wind or 'listen' to the ambient sounds?
People photographers understand the importance of knowing their subject's personalities before shooting. The same holds true for nature photography, architecture photography, etc.
Although some might disagree, photography is much like painting. The following analogy helps understanding the primary difference between the two:
A painter stops adding paint strokes to an otherwise blank canvas before he or she decides that the work is finished.
A photographer instead, removes elements of an image until the canvas is essentially blank again. He or she decides when this process of removal is enough to produce a striking image.
GORILLA COMPANIONS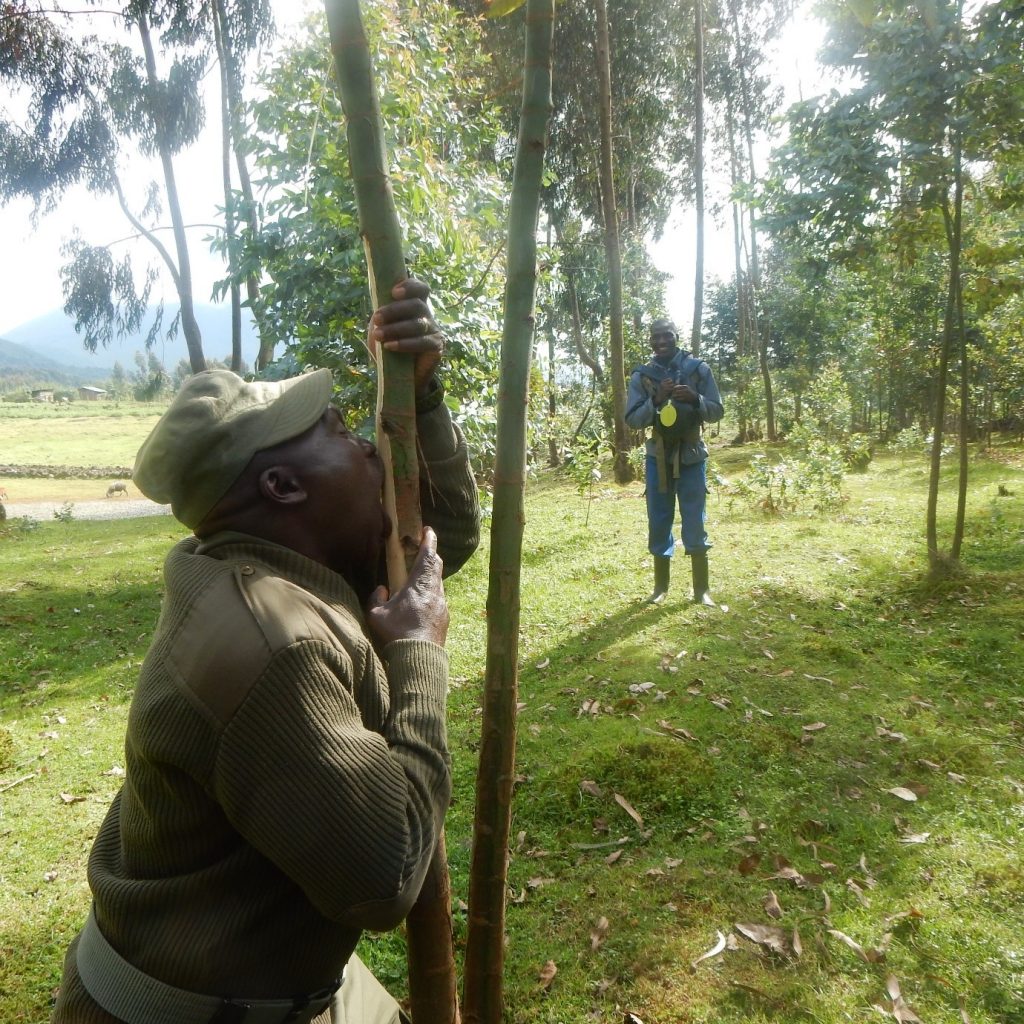 Bwindi Forest in Uganda: Our knowledgeable and dedicated guide shows us how gorillas tear strips of bark off trees. This was done with all the accompanying grunts, squeals and gorilla 'words'. Tourists often come back to enjoy this spectacle – most interesting every time. These guards often lose their lives defending the gorilla population against poachers.
SILVER BACK GORILLA – "ONE TOO MANY"
SILVER BACK GORILLA SLEEPING IT OFF
Volcano National Park – Rwanda: 480 mountain gorillas living in the Virunga National Park in the Congo and Rwanda, and in Uganda's Mgahinga National Park love sugar cane, some of it fermented.
These gorillas are far gone – friendly passive drunks though!
CHIMPANZEE SAVOURING A 'PLUMLIKE' FRUIT
Kibale National Park – Uganda: Our big chief having a bit of afternoon tea – nibbling on fruit. They eat mainly vegetables and fruit.
'JOHN THE ELEPHANT' – BANANA BOY
Mweya – Queen Elizabeth National Park. "They have named me 'John the Elephant' I am well known for my banana fetish. My trunk can detect bananas anywhere. I sneak into the village to look for bananas in the rubbish bins. Beware anyone leaving bananas in your hut! If I get a whiff of it, I will break down your door to satisfy my banana sweet tooth!
MWEYA: UGANDAN TREE CLIMBING LIONS – SATIETY
Mweya – Queen Elizabeth National Park: "Burp, grunt – excuse me! You searched high and low to find us – we are the famous tree climbing lions in the Queen Elizabeth National Park. Why are you so annoyingly noisy while we are having our well-earned siesta? This branch is a comfy lion hammock. Ah blessed surfeit – you annoying vultures circling overhead – can now have our leftovers!"
Mweya – Queen Elizabeth National Park: "Hi, my name is 'Referee', everybody knows who I am. I am an ardent supporter of the local school soccer team and a spectator at many of the local school matches. I lost my one horn during an altercation with a predator – and lived to tell the tale! I hang around the village for protection against lions".
QENP: 'REFEREE' AND MATES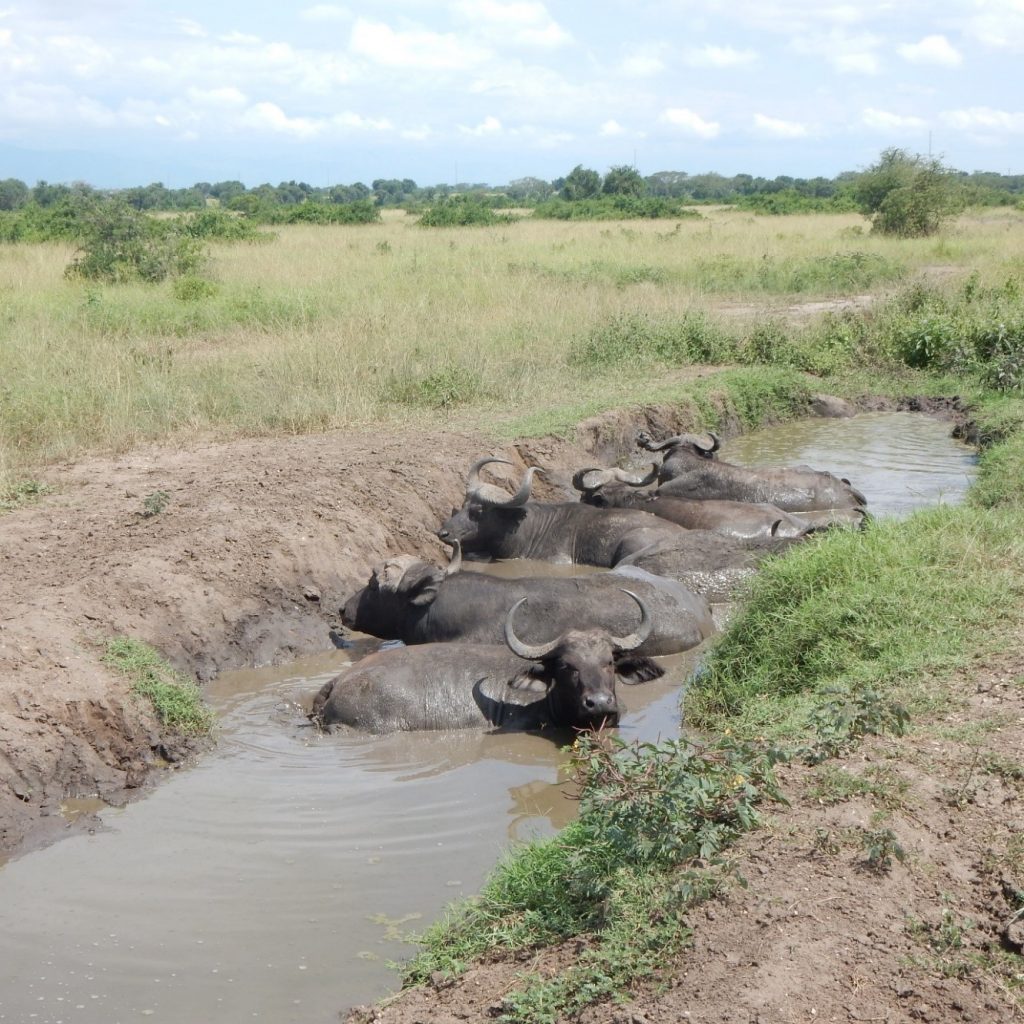 Mweya – Queen Elizabeth National Park: "Me again! After the match, I hang out with my mates at the local muddy watering hole. Love the water and the company".
LAKE BUNYONI: OUT OF SIGHT – OUT OF MIND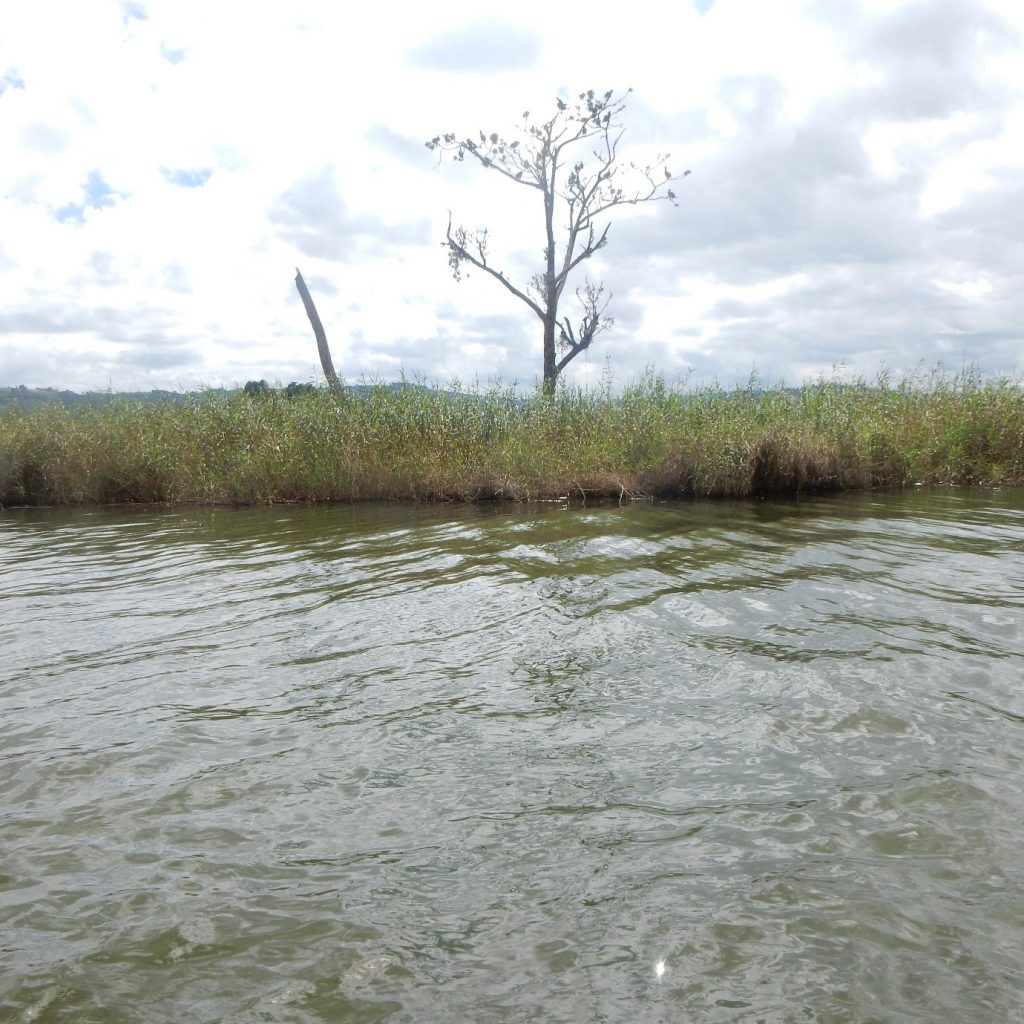 Lake Bunyoni – Uganda: Unmarried girls of wealthy families, who got pregnant could bring shame to their families in parts of Uganda. To prevent this, they were taken to a tiny water-logged island in the middle of Lake Bunyoni and left to die. Come nightfall, poor suitors, who could not afford a dowry for a wife, grabbed the opportunity to rescue the fallen maidens in distress and would sneak up in a boat and take their new wives to a modest place of safety.
KING JIM AND QUEEN DEDRIE – RWANDA ROYAL PALACE
Kings Palace in Nyanza – Rwanda: Feel honoured in the presence of King Jimmy and Queen Dedrie of the Kingdom of the Ex-Poachers in Rwanda. We reigned fairly and magnanimously for a full 30 minutes. We can be seen in front of our palace in our ceremonial outfits.
THE KING AND QUEENS HERD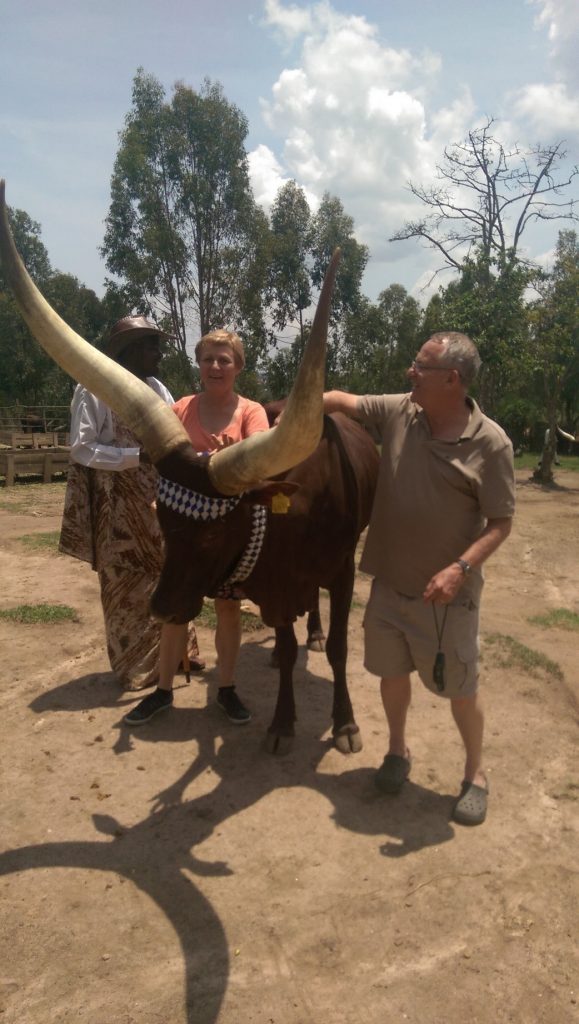 Kings Palace in Nyanza – Rwanda: Had to be careful around this fellow! However, he liked a hug – at the ex-Rwandan kings palace!
MAGALIESBERG: BABOON ROCK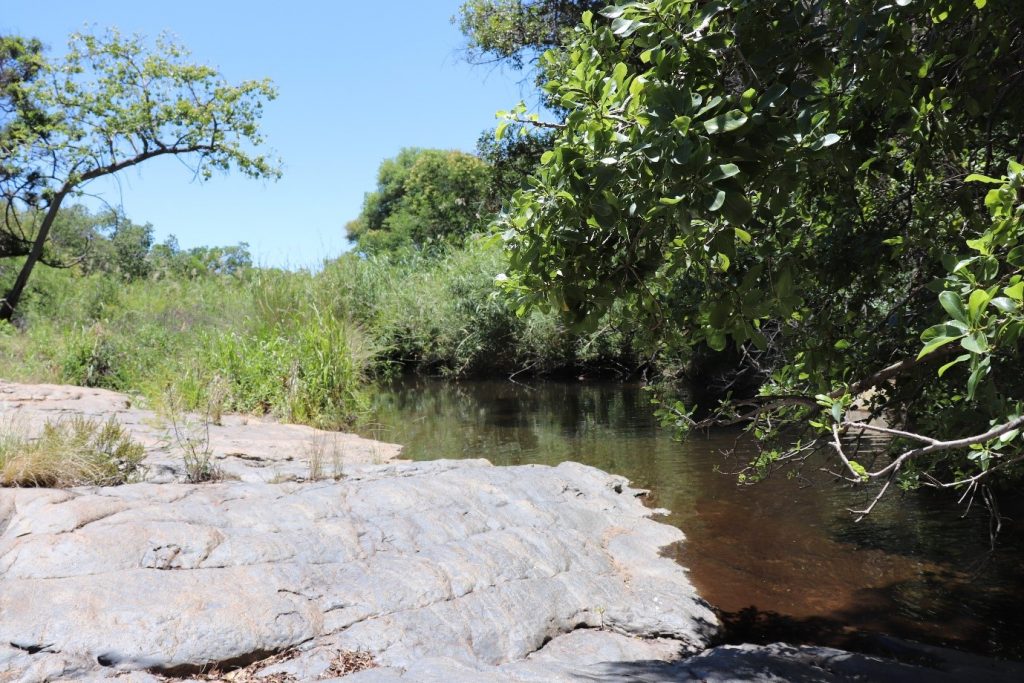 Dome Pools – Magaliesberg; Mpumalanga or the Transvaal (depending on your age): Falling asleep on this rock many years ago, I awoke feeling my hand being tugged by someone, or so I thought, with a very cold small hand! I shrieked with fright on seeing that this fond tug of the hand was being executed by a rather large baboon who fell over with fright and made off barking madly.
MIKUMI NATIONAL PARK: HOW BRAVE AND INNOCENT!
Mikumi National Park – Southern Tanzania: Camping at the campsite near the hippo pools seemed a good idea at the outset. Much to our regret the campsite was situated in the middle of the hunting area of a pride of lions! I was asked obliquely by the ranger before setting out, if we were afraid of lions. He told us that he was terrified of them. Not to worry he said – "you will be protected by the Masai ranger who lives at the site". On our arrival, there was no sign of the Masai ranger – just an unoccupied army tent!
MIKUMI NATIONAL PARK: LOOKING AFTER OUR FRIEND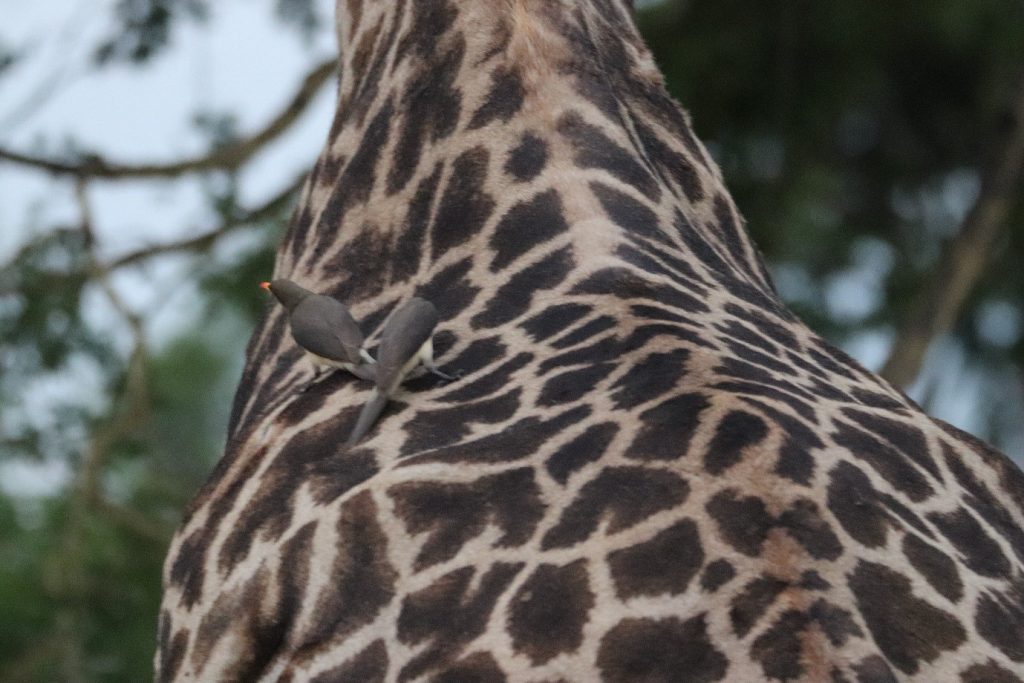 Mikumi National Park – Southern Tanzania: They brought their passengers along – ticks and the Oxpeckers. The Oxpeckers spent many hours crawling up and down the legs and neck and other connecting parts of the Giraffes.
MIKUMI NATIONAL PARK: HUNTING LION – "I WILL NOT LET YOU PASS!"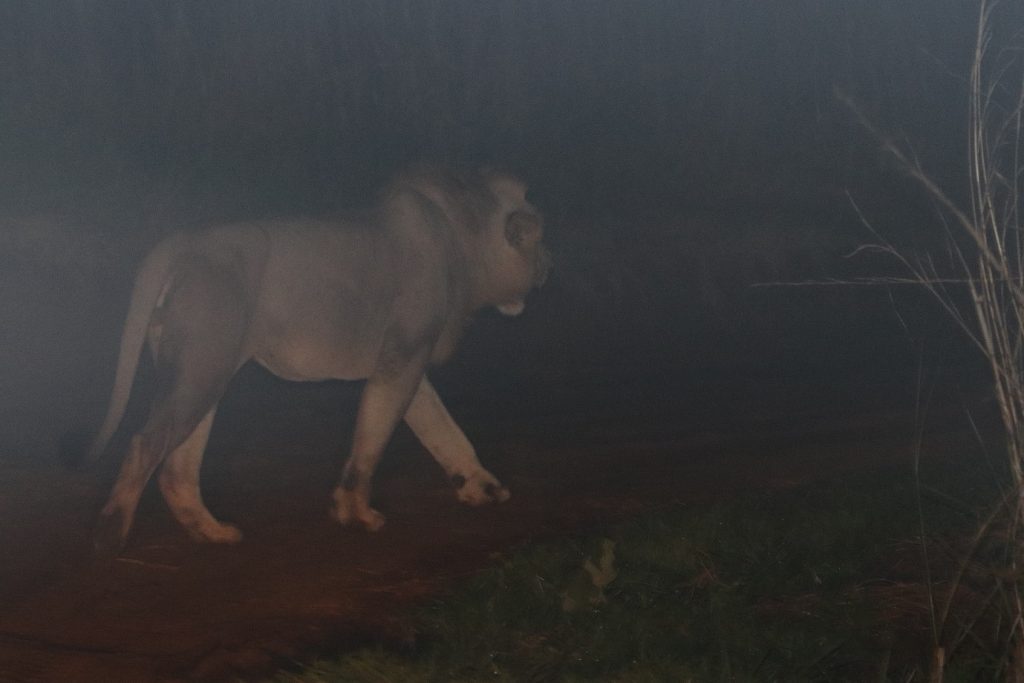 MIKUMI NATIONAL PARK: SEXY LION – "SCARED YOU GUYS LAST NIGHT!"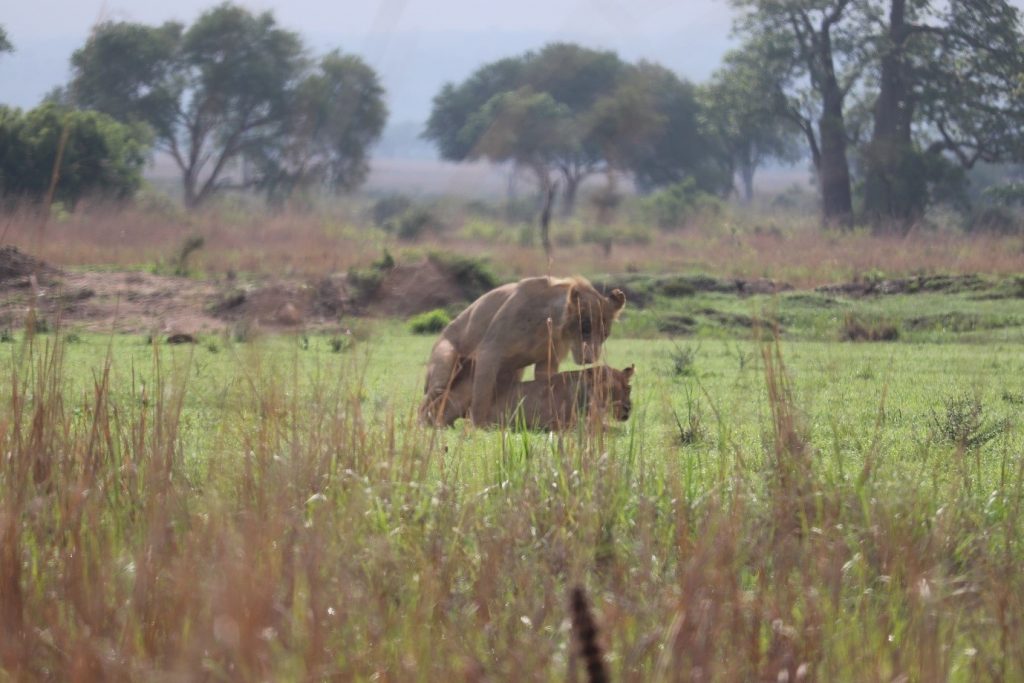 Mikumi National Park – Southern Tanzania: How peaceful, satisfied, playful and sexy – after scaring us out of our wits. On the first night we left Dedrie at the tent, minding the fire and preparing something for us to eat, while Hilda and I went to fetch the key to the enclosed kitchen area – which our absent Masai was supposed to have opened for us. We drove many kilometers getting lost in the dark and relying on our GPS for navigation. On returning we got stuck behind a huge male lion in the dirt road who would not let us pass in the dark. Panic set in as this bloke refused to get out of the way, just jumping out into the bush after we shouted out of the car window – 'please, shoo, shoo, nice kitty'! We wondered what was happening to Dedrie, as we tore off at the maximum speed allowable in the park – a miserable 10 km/hr. To our dismay, when we arrived at the camp site, all was dark – pitch dark. Not a sign of life. We kept asking ourselves, 'Where was Dedrie; what had happened to our brave sentry, who had opted to stay back and guard our camp site against any predators!'. Our misgivings were compounded when the torch light failed to yield any trace of her. Panic turned to great relief when we heard a whimper from the tent and a small voice said, 'OMG, I thought that's the end of me when I was minding the fire as it started to drizzle, and an ear-piercing roar nearly made me jump out of my skin. I dived into the open tent door and pulled the zip down'. We shone the strong beam into every nook and cranny of the camp site, to see if there were any hungry eyes staring at us. We could hear the grunts and muffled roars nearby. We coaxed Dedrie out of the tent and walked as close as we could – in single file, to the enclosed kitchen area. We debated whether we should rather spend the night there, sleeping on the concrete floor. Eventually, we mustered up enough courage to go back to our tents. Our torch beam caught the flickering gleam of hundreds of frightened eyes of impala, zebra and giraffes who had moved closer to our camp site, maybe seeking some protection? This scenario was re-enacted every evening at the camp site. The lions roaring around us as we walked as one-person to the toilets or anywhere in the camp site terrain.
ARUSHA NATIONAL PARK: WILDFLOWERS – MEDICINAL AND BEAUTIFUL
ARUSHA NATIONAL PARK: PARASITICAL FIG – FLORAL PREDATORS!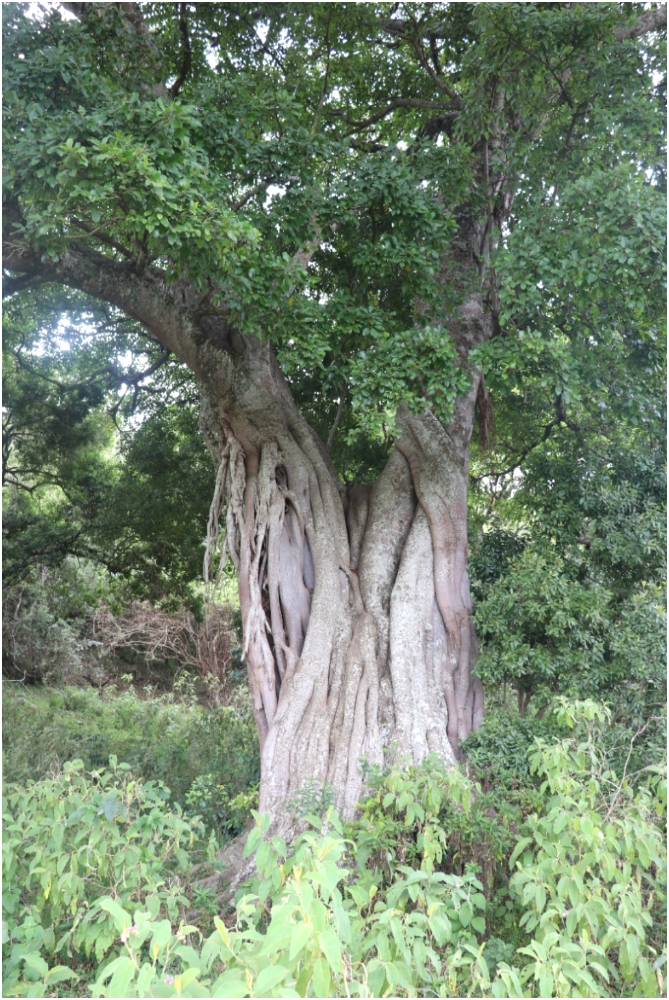 Arusha National Park: A marvellous and interesting park full of delights and surprises such as the Ngurdoto Crater, Mount Meru and the Momella Lakes. The ranger pointed out the steep sided pudding dish surrounded by forest; the floor covered by lush swamps which we walked through and riverine forest where we spotted buffaloes, baboons, giraffes, warthogs, hunting dogs, olive baboons, beautiful flamingoes and the black and white colobus monkeys. The knowledgeable rangers pointed out mosses, ferns, lichens, numerous species of wild flower and orchids that thrive in the park and on our drive through we saw mahogany and olive trees and wild date palms on the drier walls of the crater.
ARUSHA NATIONAL PARK: STRATEGIES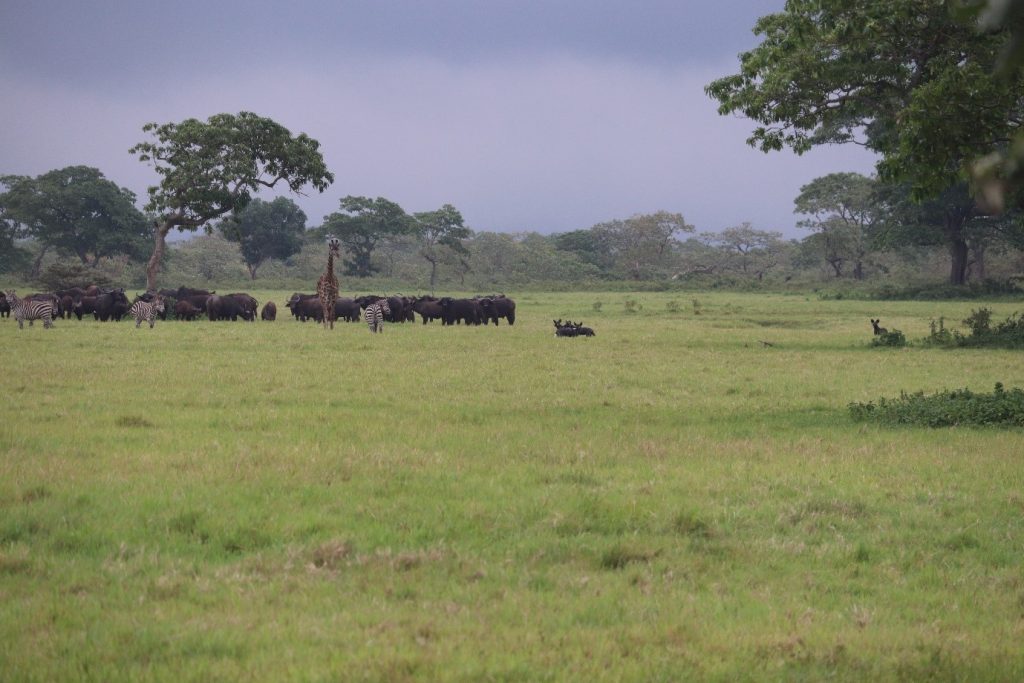 Arusha National Park: We witnessed an incredible life-and-death scenario, involving buffaloes, zebras a lone giraffe. A pack of wild dogs converged onto this group of animals with an apparent strategy to isolate the calves. The defending group's strategy was to try to form a protective laager. All sorts of tactics were in display from both sides. Initially the buffaloes charged, only to be outflanked by the slinking wild dogs. All that could be seen were the heads bobbing above the grass. Then the zebras had a go – still no backing off from the wild dogs. Then the giraffe appeared as the stand-over guy – it's long neck and head directed towards the black heads bobbing up and down out of the grass. When we left after watching this spectacle unfold, the zebras had formed a pretty tight protective laager around the calves. We saw the shadowy figures in the grass back off and then regroup, leaving us to wonder what the final outcome was!
OKAVANGO DELTA: LEOPARDS – STEALTH AND DECEPTION
Khwai River – Northern Botswana: Camping in the Khwai River area with wildlife and birdlife in abundance. Animals include: elephant, buffalo, lion, leopard, serval, cheetah and wild dog. Our ranger was informed on one of the game drives that we may be in for a surprise. And we were – these leopards showed us what magnificent creatures they are. Form, colour and a perfect blend.
OKAVANGO DELTA: ELEPHANTS – SEEKING REFUGE
Khwai River – Northern Botswana: Huge herds of migrating Elephants enjoy the Mopane woodlands of the interior of the Khwai area. Elephants visited our camp site, passing within metres of our tent. One evening, sitting around the camp fire, we were woken to a cacophony of trumpeting and angry roars, believing that an elephant cub had been attacked by a lion. Rangers at the nearby camp site told us that an elephant matriarch was only protecting a newly born elephant from the rest of the heard. Well – we did not believe that these wonderful creatures could scream, rant and rave in such anger!
OKAVANGO DELTA: ELEPHANTS – HAPPY AND SAFE
Khwai River – Northern Botswana: They loved the water, mud and sand. This one submerged completely with just the trunk showing, resurfaced, got out then threw sand all over her/his self.
KALAHARI BOTSWANA: PARADISE LOST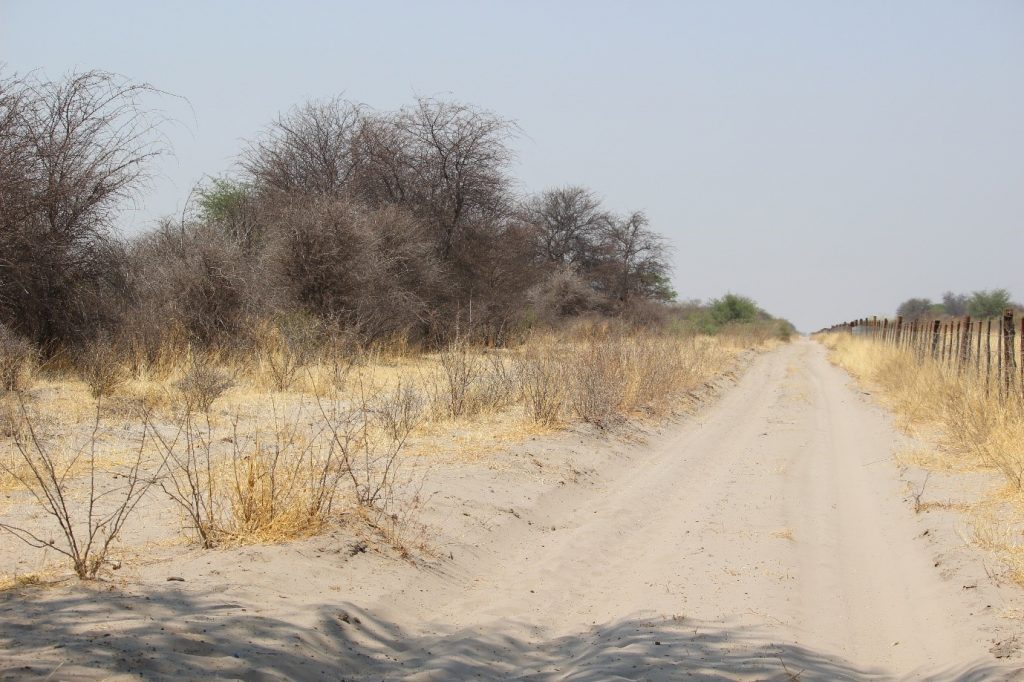 Central Kalahari National Park – Botswana: It is very easy to get lost forever in this park – and we nearly did. There were no proper signposts, no proper maps, no sign of habitation at most of the camp sites and no vehicles in the park when we signed in on a Saturday afternoon. Thank God we finally reached a camp site after travelling west, ever west on unnavigable, dreadful roads. Contrary to local advice, we found out a satellite phone and convoy travel were essential risk of getting lost and survival measures! Nevertheless, there were great, unforgettable experiences in the offing.
KALAHARI BOTSWANA: THIRSTY MAGNIFICENT GEMSBOK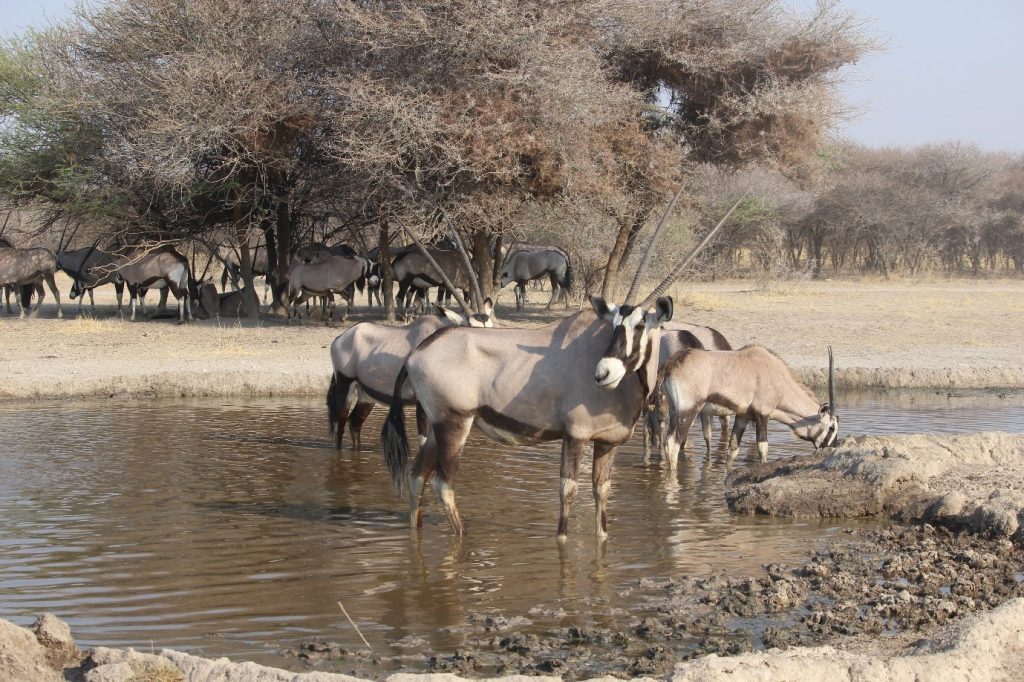 Central Kalahari National Park – Botswana: Stunningly beautiful Gemsbok slaking their thirst at the waterholes.
KALAHARI BOTSWANA: FORM, COLOUR & CO-DEPENDENCE
Central Kalahari National Park – Botswana: Form, colour and co-dependence!
FISH RIVER CANYON: THE BEGINNING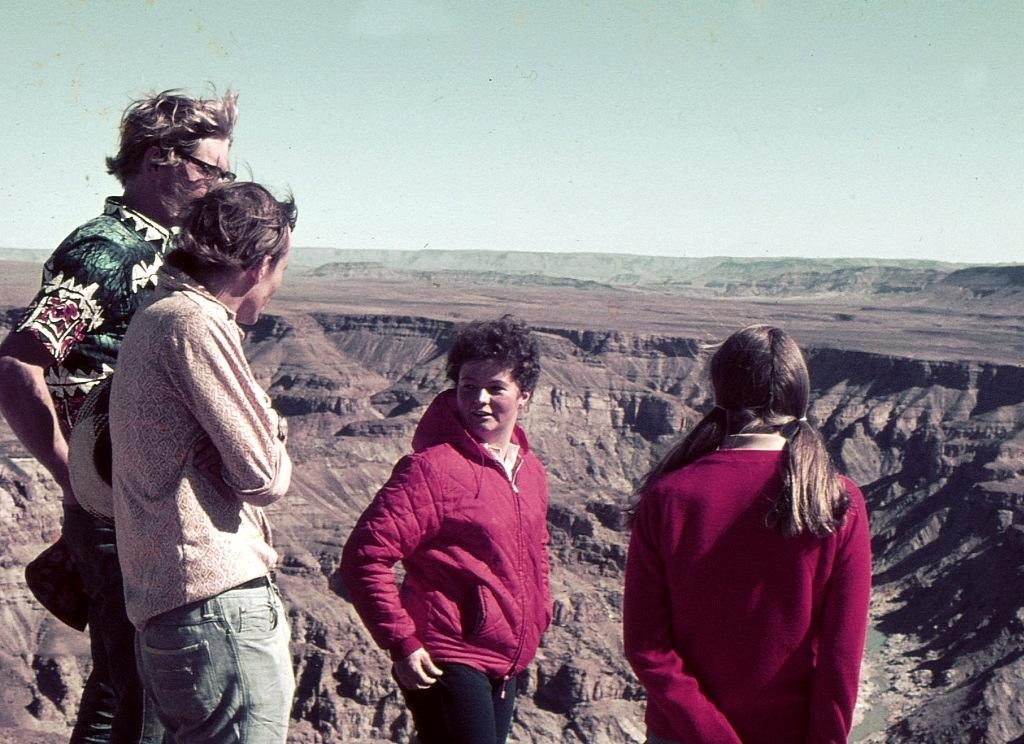 The beginning.
FISH RIVER CANYON: THE END
The end.
The Fish River Canyon – Namibia – 1971: We descended into the canyon in 1971, walked for 5 days until we reached the end-point at the Ai-Ais hot springs. A wonderful, not to be repeated experience.
FISH RIVER CANYON: PRIMEVAL INCOMPARABLE BEAUTY BUT FORBIDDING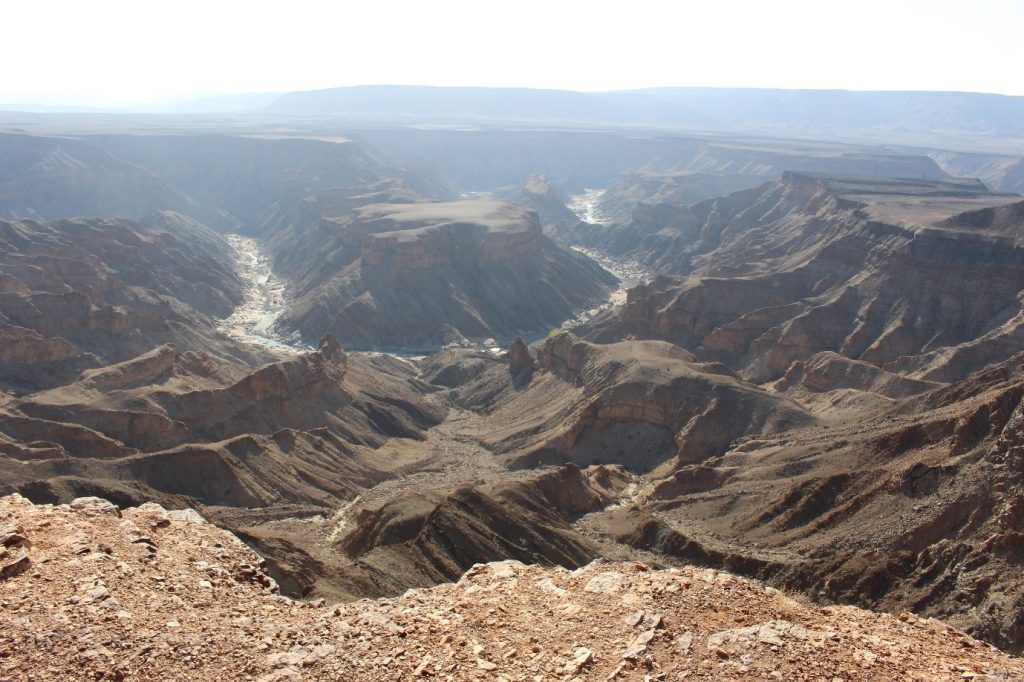 The Fish River Canyon in Namibia: Looking down into the canyon in 2017 – 46 years later. Maybe a little deeper than 1971?: Nowadays, the canyon, in all it's glory, can be viewed from the comfort of a safari lodge situated on the edge. Getting there is a challenge though – 90 km of tracks – called roads – only accessible by 4 WD.