Dutch, and German views and attitudes, blended with Huguenot views of and attitudes towards society and religion defined our own Afrikaner culture and established a unique Afrikaner Cultural DNA. Our Afrikaner language, Afrikaans grew out of the languages spoken by these Europeans, with a bit of Portuguese and the languages of the slaves thrown in – the language of our Cultural DNA.
Many of our early Cape ancestors were from Holland and Germany – employees of the VOC.
Jacob Cloeten
Jacob Cloeten is our 9th generation great-grandfather. He is one of the Afrikaner nation's founding fathers and Jacob's wife, Fijtje Raderotjes, our 9th generation great-grandmother is one of the founding mothers. For, their daughter, our 8th generation great-grandmother, Elsje, is the ancestor of all the Van der Merwes, Van Heerdens, Van Rensburgs and Myburghs in South Africa and many more.
We may even have some of the DNA of the very first Free Burghers at the Cape – as Jacob was the first to get a 'Letter of Freedom' from the VOC; the first to marry and the first to establish a family that stayed in the Cape
He was among the first to own a piece of land (Figure 23, Page 48) – given title to the land on 10th October 1657. Jacob was the first real immigrant to the Cape.
But he met with foul play!
On 23 May 1693 there is an entry in the Journal of the Cape Governor, Simon Van der Stel:
'This evening, between the hours of 8 and 9, was murdered, not far from the Castle near the butchery, Jacob Cloeten, corporal in the service of the Hon. Company, the oldest of the Comp's servants, having helped to lay the foundation of this colony, having been the first Freeman, though having later returned to the service of the Company…he was found, badly mistreated with three blows to the head and two stab wounds to the chest, all five mortal, over and above twenty five lesser wounds, he was found lying in his blood with his sword at his side still in its scabbard, so that the attack must have been treacherous, as he was still very agile and as fit as a twenty-five-year-old young man'.
Figure 23: Jakob Cloete's Land
Jan Coenraad Visser
My ancestral great-grandfather Jan Coenraad Visser[1], also known as 'Grof' (the 'Ruffian), arrived at the Cape from Ommen in the Netherlands the Cape in 1658, aboard the 'Dordrecht'.
A soldier and priest by trade, tall, blond with long hair and powerful – he convinced the VOC to take him on as a hunter (Figure 28, Page 57). Some say that he was known as 'Grof' because he was tall! The records say that he was a soldier at the fort. So, Jan had 'many strings to his bow'.
By the time 'Grof' had arrived, the governor, Jan van Riebeeck had built the clay and timber fort to defend the community against the Hottentots (Khoikhoi), 'Redout Duijnhoop' in 1652. When he arrived, the VOC was busy erecting a wooden fence, watchtowers, and a hedge. The Liesbeeck River, with the fence, hedge and river became a defensive barrier (Figure 23, Page 48) to protect the livestock against the incessant Hottentot raids.
On 30 September 1659, 'Grof' was granted a 'vrijbrief' (letter of freedom) which released him from his contractual obligations to the VOC and he became a 'Vrijburgher' (Vryburgher or Free Burgher). He was permitted to farm, become a tradesman, or work for others.
But 'Grof' was indebted to them as they had advanced money to his wife to come out to the Cape. He was given land at Bosheuwel (Figure 23, Page 48), where he agreed to plant wheat and farm with cattle and pay back his debt with the wheat and meat he produced.
That scheme did not work out very well as shown in the VOC journal in 1660 as the commander's journal says that 'Grof' and his mate Pieter Visagie were not 'making the grade' as farmers: 'As the agriculturists Pieter Visagie and Jan Coenraad Visser, are becoming daily more indifferent to their work and consequently piling up their debt, without displaying any zeal whatever in the rearing of wheat, with which alone they will be able to pay what they owe….
It was finally decided to instruct the Company's agricultural superintendent, Cruythoff, daily to urge them on to their work as if they were still in the Company's service, until they shall have cultivated their lands to such an extent as will make them equal in value to their debt, seeing that the Company advances everything to them at a cheap rate, keeps their mouths open, and helps them up from the very bottom. It is therefore but fair that they should make every effort for repayment, without being compelled to do so by the Company'.
In 1660 several ships in the homeward bound fleet, carried on board a number of stowaways, homeward bound to Holland – fed up with life at the refreshment station. In fact everyone in the fleet wanted to get away from the Cape – it must have been a terrible place to live! Vryburgher Leendert Cornelisz, cutting timber near the Fort (Figure 28, Page 57), saw and heard alarming behaviour from the crews on the homeward bound ships moored nearby.
But 'Grof' earned a few 'brownie points' with the VOC. Both 'Grof' and Pieter Visagie testified against ship personnel and sailors who were tried for inciting people working in the gardens and other company projects to leave and join them on the journey back to Holland.
The instigators shouted to people within hearing distance: 'Who wishes to join us, let him get into the boats; get in Cape people, get in foresters and wood cutters, get in, Zealand, Amsterdam, Rotterdam, Delft, Hoorn, Enckhuysen, we will hide you all, only come, leave this accursed place'. They also said: 'You need not be afraid, go with us; nothing will be done to you, why should they do anything to you?'
This led to people stowing away – concealed by the people on board – desperate to leave the Cape!
Some of the stowaways were caught and tried. 'Grof' and Pieter Visagie testified at these trials and told how homeward bound crews cried out in numbers: 'Get into the boats, go with us; what do you do in this cursed land'. 'Grof' somehow had been dragged onto the ship 'Zeepaard', where the chief mate asked after Pieter Visagie and said that he was to tell him that he might freely come on board for that he could easily be taken on ; whilst the crew exclaimed, 'We would rather be hanged than lie in this damned country'.
It is not known if 'Grof' got on board freely or was forcibly taken on board, because some Vryburghers, such as Jan Pieterszoon, declares that the crews of the return ships had caught hold of him near the jetty, and pushed him on from behind in order to drag him into the boat, saying: 'You must go with us, leave this cursed country, what do you do here'.
The VOC's agricultural superintendent, Cruythoff must have liked 'Grof'. On the 18th of December 1662, the German governor at the Cape, who succeeded Jan van Riebeeck, Zacharias Wagenaer wrote: 'Early this morning I went out to the country with the Land Surveyor to mark off for the freeman Jan Coenraad Visser some better corn land than he at present possesses at the Bosheuwel, and to grant it to him, at his request, in freehold….
He complains that his old lands are so poor and sandy that last year, instead of eight bushels of corn and barley which he had sown on it, he had this year not enjoyed more than six bushels from it, which is not sufficient to feed him with his wife and five small children, and this having been found to be the case, I gave him twelve morgen of good land behind the Uytkyck, on the other side of the Liesbeeck, as will appear from the diagram' (Figure 28, Page 57).
That farm was situated on the Liesbeeck River at the site of the present day South African Astronomical Observatory.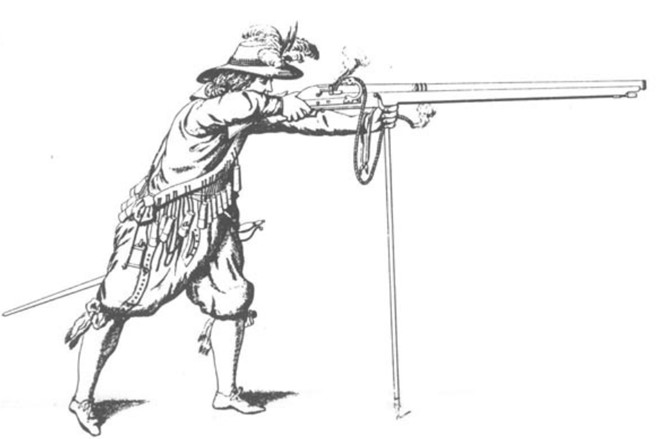 Figure 24: VOC Musketeer
'Grof' also hunted to lessen his debt. On 6th October 1662, the governor Zacharias Wagenaer wrote in his journal: 'Very early this morning the freeman Jan Coenraad Visser shot a horrible 'wolf' (possibly a hyena) which had killed one of his young oxen'. He kept shooting the hyenas because in 1664 Zacharias Wagenaer wrote again in his journal: 'The agriculturist Jan Coenraad Visser shot this day a big, horrible wolf, which was brought into the Fort. As a reward he received ƒ20, the amount fixed by tariff'.
I wonder if 'Grof' during his hunt, appreciated the beauty – the flora and fauna – along the slopes of the 'Bosbergen' and then along the banks of the river as it meandered down to Table Bay.
For that area was part of the 'Cape Floral Kingdom' – the Cape 'Fynbos' – now a World Heritage Site. 'Grof' would have come across Proteas, Ericas, and Restio on the mountain slopes, and blue and red Disa Orchids in the gulleys.
Figure 25: Ericas
He would have hunted along the banks of that 'Garden of Eden, covered with shrubs, reeds and ferns. He would have made his way through the dense forests along the slopes of the mountain. He would have walked along the wagon track through the forest, searching for the predators that took his cattle. Along the way he may have come across Jan Pieterzoon, asking if he had seen a large 'wolf'.
In those temperate rain forests, would he have seen and heard the myriad birds in the huge magnificent trees which were being cut down to replace the masts of ships damaged by the fierce south easterly winds they faced as they sailed around the Cape and to provide the timber needed for the rapidly growing refreshment station.
'Grof' the hunter would have supplied the VOC with much needed protein – his shots ringing out along the Liesbeeck, aiding in the great scattering of animals further into the interior. On open ground he would come across large herds of antelope, zebra, and wildebeest mingling with ostriches and flocks of partridges and guineafowl. In the woods he would come across startled warthogs, porcupines and other small animals hiding in the undergrowth.
There were many elephants and rhinoceroses giving up their ivory to the ships waiting in Table Bay. The hippopotamus hides from 'Zeekoeivlei' would be used for many purposes – including the making of whips (sjamboks) to keep the slaves in their place.
There were many predators – lions, leopards, wild cats and hyenas – as well as the barking baboons on the mountain. 'Grof' shot many hyenas that had taken a liking to the growing numbers of cattle being kept on farms next to the Liesbeeck.
In the wetlands (vleie) geese, duck, snipe, herons, egrets and flamingoes would take to the air as 'Grof' went about his business.
'Grof' was sent out by the new commander, Cornelis van Quaelbergen in 1666 to snare a wild horse, to see whether these could be used in any way. He wrote in his journal that they captured a: 'Young and extraordinarily beautiful striped foal, having the shape of a horse, but with long ears. The trapped mother mare kicked and jumped so violently that the poor creature bit off her tongue and died in the snare. Time will show whether the foal, which was slightly sprained in the loins, will be reared.'
The VOC looked after its employees. 'Grof' was induced to stay and not desert again as he had lots of hunting skill – very scarce in the early years at the Cape. They financed passage for his wife Geertje[2] Aeltje Gerritz and three children –who arrived on 4 February 1662, only to discover that Visser had fathered a child with the slave woman Lijsbeth van Bengal.
Gerrit Willemse
Dedrie's family tree leads to Gerrit Willemse[3], an ancestral immigrant from Leeuwarden, Friesland, Netherlands, who arrived in 1690, in the time of Governor Simon van der Stel, a few years after the first French Huguenots arrived.
Gerrit, a 'lime burner' and 'livestock farmer' was granted a free voyage and given a piece of land to farm. On 9th April 1691, he married Dedrie's ancestral great-grandmother Maria Cornelisse[4], daughter of slave women Catrijn van Malabar.
Going by many VOC records, our ancestors at the Cape lived in a depraved, racist and dangerous society. These records tell of dreadful accidents, dangerous pursuits and revengeful relationships between slave owners and their slaves. But – the good stuff was probably not newsworthy – so it is hard to determine how happy that society was!
There was Isaac Pietersz a free 'Black' who took up residence with Gerrit. He appeared before the Landdros (Magistrate) in September1713, charged with 'various offences and stealing wine' Dutch: 'Diverse quaataardigheeden en … het steelen van wijn', after being found by a VOC search party under the bed of Maria, Gerrit's wife.
It was said at the trial that Isaac loved both Maria and wine with equal passion and that he stole wine regularly, such as from the farmer Richardus Adolphus Rigt. Particularly aggrieved was Andries Voormeester, an elderly man and second husband of Catrijn van Malabar, who described how Isaac once grabbed him and threw him into the fire, just because he didn't want to give him wine.
The legal documents and minutes taken by the Landdros, Nicolaas van der Heuvel, show that Isaac had a very troubled past. Gerrit's greatest complaint was that Isaac, his slave, had become very cocky – in fact master and guardian – the 'top dog' – in the house, with intolerable habits (Dutch: 'als meester en voogt, 't geen … hem ondragelijk geweest te zijn'). Isaac kept bossing Gerrit around and Maria kept ignoring him.
Gerrit did not explain that there was a bizarre love triangle between him, Isaac, and Maria –– a 'threesome' gone wrong! All he said was that Isaac had 'great familiarity' (Dutch: 'seer groote familiaritijt') with Maria.
The 'unofficial' story told by modern day Cape tourist operators goes something like this: 'Gerrit was a very heavy sleeper – particularly after a few mugs of the very potent Cape wine that was dished out to the slaves. Whilst he slept, Maria would sneak into the slave quarters at the back and snuggle in beside Isaac. Isaac was strong and macho and there was a 'spark' between them. The sex lasted late into the night. Gerrit would not stir when Maria sneaked back and fell asleep, waking up long after Gerrit had got up to tend the vineyard outside.
This sneaking to Isaac's bed became a habit as Gerrit lay snoring loudly night after night. One night, Gerrit lay snoring with his one eye half-open. Unknown to Maria, Gerrit was not that stupid. He had woken up a few times to find out that Maria was not there. He saw her sidle out of the bed and tiptoe out of the room. He waited for about half an hour and then slipped out of the bed noiselessly and slowly made his way to the slave quarters – towards Isaac's bed in the corner. He could not believe what he was hearing – sounds of Maria and Isaac making 'love' – but big time! Then Isaac spotted the hapless Gerrit's silhouette in the doorway.
He jumped out of the bed – stark naked – ran up to Gerrit and grabbed him by the hair, tripped him and dragged the protesting Gerrit out of the house. He stood in the doorway, shouting at the prostrate figure on the ground: 'Leave this house and never come back – or I will kill you'.
And that is exactly what Gerrit did – he left, becoming homeless – a sad, dejected figure seen scrounging around the settler houses in Stellenbosch village. Maria and Isaac married.
'It was Isaac's bad character', the court heard – his owners were not to be blamed for his bizarre behaviour. It was said that as a child, 'being a black boy', a freed slave, he was adopted, cared for, and educated by the wife of Vryburgher Matthjis Diedriks. For nine years she tried her best to teach him good virtues, but he left their household to 'go vagabonding' (Dutch: 'ga vagabondeeren'. While they were looking after him, according to Diedriks, he was rebellious and 'a real scoundrel' (Dutch: 'met reg een deugniet').
In that small, constrained society, racial bias reared its ugly head from the beginning, as illustrated in Isaac's trial. The Landdros Nicolaas van der Heuvel heard that Isaac had fathered 'two illegitimate brown children' (Dutch: 'twe onegte Bruijne kinderen') with Maria. Isaac was found guilty, tied to a pole and flogged and banished to Robben Island to break rocks but, luckily not part of the chain gang.
During the court case, Isaac's education and character traits were said to blame for his bizarre actions. It was said that as a child, 'being a black boy', a 'freed slave', he was adopted, cared for and educated by the wife of Vryburgher Matthjis Diedriks. For nine years she tried her best to reform him, but he left their household to 'go vagabonding' (Dutch: 'ga vagabondeeren'. While they were looking after him, according to Diedriks, he was rebellious and 'a real scoundrel' (Dutch: 'met reg een deugniet').
There was a mockery of justice regarding a 7th generation first cousin of mine, Gerrit Coetzee, who was apparently in a 'relationship' with a twenty-five-year-old Khoikhoi woman 'Caatjie'. Gerrit was accused of sodomy, tried and sentenced to death by the VOC, and drowned in Table Bay on the 23rd of September 1733.
In the witness box, Caatjie said that she was visiting the farm of the 'vrijswart' (freed black) Claas van Malabar, in Drakenstein. There she joined a 'party' in the house, consisting of the Vryburgher Christoffel Beijer and the wives of Claas and the 'vrijswart' Cobus van Macassar.
Then Gerrit appeared on the scene. In the meantime, Caatjie had gone to the 'waenhuis' (wagon house) to sleep – with her child. Gerrit angrily asked where she was. They pointed to the 'waenhuis'. Apparently, they were fighting and not getting on at the time.
She was lying on a rough bed, with a kaross covering her and a wax candle flickering in the draughty 'waenhuis'. He wanted sex and asked if he could 'lie with her'. She sullenly refused. He angrily left, muttering some curses and walked off in the direction of Claas's neighbour, Charles Marais to where an old mare with a foal and a red-brown mare were tethered to a pole.
Caatje too went outside, and she saw Gerrit standing on a block, using the red-brown mare she said: 'Against nature'. He had the horse's tail in his hand and had restrained the horse with a rope around her neck. So busy was Gerrit that he did not see Caatje approach him and sit on the ground to watch the spectacle in front of her. She described to the shocked court, how his 'whole body was stirred' in this 'detestable work' she said. She then described how she went closer to get a better look. She could not believe what she saw – and screamed at Gerrit, saying: 'Mijn God Gerrit, wat doe je daar?' ('My God Gerrit, what are you doing there?'. He then got off the block and she saw that his trouser flap was open, and his penis was hanging out.
Gerrit then tied the mare to the pole, and he disappeared without saying a word. Caatjie ran to the house and banged on the door and windows, shouting: 'Kijk hoe Gerrit hier met jou paard omgaat!' (Look what Gerrit is doing with your horse!').
In closing, Caatje said that she could see clearly with a full moon shining brightly.
Caatje's testimony was, in Landdrost (Magistrate) Lourensz's opinion mostly credible and detailed. But she was a Hottentot (Khoikhoi) heathen and the only eyewitness. Her evidence was considered to be only 'half proof' – a Hottentot's word against that of a Christian.
Being heathen, Caatje could not take the solemn oath: 'So waarlijk help mij God almagtig' (So please help me God), which would have added more weight to her testimony. Despite that, her circumstantial evidence tallied with the evidence of others – Christoffel Beijer and the baptised 'vrijswart' woman Constantia of Bengal. Both swore that they heard Caatjie banging on the window and ran out and they saw the block still standing behind the mare.
The evidence presented was contradictory – Caatjie said the incident occurred early in the evening, while the others said that it had occurred at dawn!
Gerrit firstly denied all the allegations and said that he had sex with her before the visit to Claas's farm. He denied that he asked her for sex as he already had his fair share that day. He said that he had lain with her until dawn and had not left the 'waenhuis'.
Later on, in the trial, he admitted that he had had sex with a horse once before.
Then additional evidence was drummed up against Gerrit. Johannes Pretorius and Abraham Le Roux testified that 'about eight months ago', while they were walking in the vineyard of Charles Marais, who lived in Drakenstein, they came across a terrible scene.
Gerrit was seen copulating with a grey mare belonging to Vryburgher Leendert van Saxen. The mare was standing in a ditch behind a quince hedge, and the poor creature was being mounted by Gerrit, who was making very suspicious copulatory movements. Pretorius testified that Gerrit: 'Sig vervolgens daarop roerende als of hij deselve gebrijkte' ('went and lay, and then moved upon it as though he was using it'). Pretorius and Le Roux were so appalled that they could not watch the 'disgusting act' any further and immediately went on their way.
This evidence swung the case against Gerrit. The Landdrost was satisfied that the crime had been committed and that further torture was not necessary – the truth was known! The law was clear in such a case – death by drowning in Table Bay.
If only the defence had questioned the obvious inconsistencies between Caatje's statements and those of the other eyewitnesses – particularly the time that the event occurred. Gerrit may have lived, forever cured of his horse fetish!
But the records – like the news – is usually quieter about those that were good, honest citizens going about their daily business as farmers, artisans, craftspeople, and professionals.
Erasmus Smit
My fourth great-grandfather Erasmus Smit, a VOC soldier from Holstein in Germany, arrived at the Cape in 1717 on the ship 'Minden'. He married Kornelia van Emmenes from Stellenbosch – born in the colony from Dutch parents from Leiden in Holland.
Erasmus started as a stable hand with the VOC, then a soldier, finishing with the VOC as a builder. He became a Vryburgher in 1728 and eventually a farmer in the Piketberg area – farming with wheat, sheep and cattle on the farm 'De Drooge Rijskloof'.
Figure 26: Our Ancestral Farm – De Drooge Rijskloof
Erasmus and Kornelia were model citizens for that era. It was quite the correct thing to do by the government and not forbidden in the Bible – rather, their interpretation of the Bible! They owned slaves like everyone else in the Cape. Labour was scarce so, the slaves Cupido van Malabar, Joumat van Bougies and September van Bougies, and four others and my 4th generation great uncles Johannes, Erasmus, Pieter, Gerrit and Albertus and aunts Anna, Gesina, Martha, Cornelia and Geertruij all worked on the farm – as one big happy team – so it seems. VOC records show that Erasmus bought Caesar van Ceijlon (Ceylon) in 1731 for forty Rixdollars from Matthijs Kruger just after they started farming at De Drooge Rijskloof. Did they wince when the slave children were wrenched from their mothers? (Figure 27, Page 56)
They minded a flock of 700 sheep, a herd of 100 cattle and eighteen horses. They sowed five 'morgen' of wheat in 1760 and harvested twenty 'morgen' [5].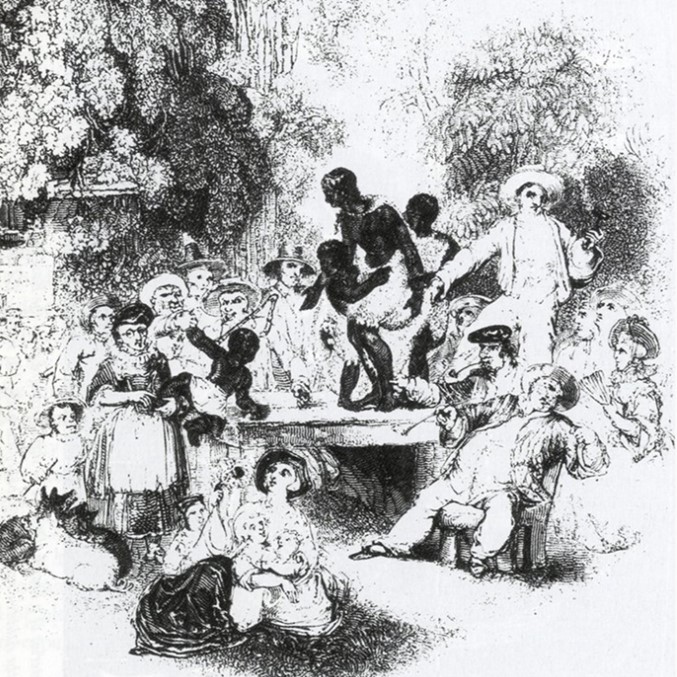 Figure 27: Slave Auction – Child taken from Mother
But farming life was fraught with danger. Erasmus and Kornelia were under constant threat from slaves on the loose, the Khoikhoi and the San. There is such an incident recorded in 1771, when Erasmus died and left the farm to my ancestral great-uncle Gerrit.
Gerrit discovered that his barn had been broken into and that some wheat was missing. He rode over to the neighbouring farmer Gideon van Zijl for help. They set off accompanied by two slaves to follow the spoor of the barefoot thieves.
It did not take them long to find four renegade slaves hiding in a thicket – armed with knives and menacing. Gerrit was taking no chances. He shouted to them in Dutch to throw down the knives and approach them carefully with their hands up.
The slaves began talking in Buginese, which Gerrit did not understand. They then slowly and threateningly started to walk towards Gerrit and his party. Gerrit shouted to them in Portuguese to retreat and throw the knives down. They kept coming! Gerrit shouted to Gideon who had a musket, to shoot the leader in the legs. Gideon fired; the slave fell. But the other three shouted 'Amok amok! Matta garra!' (Charge! Run for your lives!).
Gideon could not reload his musket in time, and he fled from the charging slaves. But Gerrit was able to load his musket and he fired, killing the closest slave. Then he fled with the remaining slaves chasing him. After pursuing him for close on 200m they stopped and ran back to their hideout.
That gave Gerrit and Gideon time to reload. They cautiously approached the hideout and shouted again to them to drop their knives. One of them charged out of the hideout, shouting 'Biel Biel' (unrecognised word) as he tried to get to Gerrit. He fired, killing the slave instantly, still grasping the knife.
The descendant of Gerrit and his brother, my great great-grandfather Gerrit, would eventually trek across the Vaal River.
Willem van der Merwe
Willem Schalk van der Merwe is the Dutch connection in my family tree – my 8th generational great-grandfather, who came from Broek, in 'Oud-Beyerland' near Rotterdam. He was recruited by the VOC as a 'haakbusskietter[6]' and boarded the ship 'Dordrecht' – happy with his salary of 8 'gulde' (guilders) per month, arriving in Table Bay on the 26th of April 1661.
He was put into service with the VOC's master gardener Hendrik Boom immediately and proved to be a very good farmer – praised for his 'ability as a farmer'. Willem then worked as an 'agricultural midshipman'. He impressed the VOC so much that he was given a farm by the governor in 1688 – land in Drakenstein on the Berg River.
Three weeks before his marriage to my ancestral great-grandmother Elsje Cloete, Willem's standing with the VOC went 'south'. He and my Cloete ancestor, Jacob Cloete were accused and convicted by the VOC of smuggling with the 'Hottentotte' (Khoikhoi). They paid for that by spending some time on Robben Island in chains. But somehow Willem regained his stature with the VOC, who took pity on him when he lost his house and grain crop in 1673.  he was given the farm Kronendal in 'Hout Bay'. The Cape Dutch farmhouse still exists to this day.
Willem was a prolifically productive dad – he fathered 13 children and an illegitimate daughter with Maria Schalks, a female slave of Governor van der Stel. But Willem was kind and generous and looked well after Maria during her confinement. The records do not tell what Elsje thought of this? Maybe Maria had been a wet-nurse for their other children– many slave women were put into the position of being a wet-nurse (Figure 29, Page 58). They often neglected their own children while breast feeding their 'master's' child!
But Willem was different – he dutifully took food and water to her and made sure that the barn was warm with enough firewood to stoke the fire while she was in labour. When the time came for delivery, he took a 'ration' of brandy to her.
Figure 29: Slave Wet-Nurse
Geertje Aeltje Gerritz
But tragedy would befall this ancestor of mine. Geertjie was beheaded by the slave Claes van Malabar in 1692.
She got into an argument with Claus for being late with chopping the firewood. She needed a fire in her oven to bake bread. The fire had to be started early in the afternoon so that she enough time for the bread to rise and bake properly.
Claus was the one to make the fire. He had spent all morning looking for stray cattle and turned up late. She screamed and swore at him for being late. He lost his temper and menacingly said to her: 'you should fetch the wood herself' (Dutch: 'gij moogt se dan selvs gaan halen!'). I think a shouting match followed, with him calling her an 'old dog'.
She lost her temper, grabbed a fallen branch to beat him with. Claus snapped – there must have been ongoing tension between them for some time. Before she could hit him, he hit her in the face with an axe he had picked up. When she collapsed, he couldn't stop and continued hitting her with the axe, until her head was almost severed.
Maria from Coromandel, a female slave, heard her blood curdling screams, rushed into the room and started screaming 'mother is dead – mother is dead' (Dutch: 'moeder is dood-moeder is dood'.
'Grof' and a visiting ships carpenter and sailor who sat gambling, heard Maria's screams. They charged into her room and overwhelmed Claas while he still had his foot on his victim's chest and continued hacking at the corpse. The scene that confronted them was like a slaughterhouse – blood on the walls – on the floor.
At nine o'clock, 'Grof' banged at the locked gates of the Cape Castle and shouted that he had to see the Governor Simon van der Stel urgently. He was taken to the Governor, who, on hearing the dreadful news, summoned the law-officer, his slave assistants and eight soldiers to arrest the murderer. The chief surgeon who arrived at the scene to examine the corpse was confronted with a horrific scene. Her corpse was positioned half on her right side and half on her back. She had open axe wounds on many parts of her body and the arm with which she tried to defend herself against the deadly blows. She was practically decapitated.
On 18th March 1692, the unrepentant Claas was condemned to be broken on the wheel. The verdict was executed three days later. By one o'clock he was dead, and his corpse was left on the wheel to decompose.
Somehow 'Grof' overcame his grief and had another three children with the same Maria van Coromandel.
Maria Visser and Ockert Cornelissen
Grof's older sister, an ancestral great-aunt, Maria[7], was married in her mid-teens to her father's hunting buddy, Willem Willemse. Willem stowed away on a ship after killing a Khoikhoi servant who'd broken his favourite beer mug.
If caught, the law required the death sentence. He was banished from the Cape forever.
His slave overseer Ockert Cornelissen[8] took advantage of the situation and had two children with Maria while Willem was 'away'. The VOC pardoned him after two years. Willem's friends pulled some strings, and he was pardoned two years later.
Maria and Willem came to blows one day and ended up in front of the Landdrost. Who should be charged with assault was not clear. The authorities were in a quandary. After considering all aspects of the tiff, the authorities considered Maria's behaviour to be 'exceedingly frivolous' and the one that possibly started it (Dutch/German: 'sehr lichtvaardigh').
How did it end? The case was dismissed when they publicly kissed and made up.
But the Khoikhoi hadn't forgotten – they were after Willem who they knew had been treated with leniency. Normally Willem should have faced the executioner. They kept protesting that he should be tried again and 'broken' in the torture chamber.
In 1677 Willem and Maria quietly left for Mauritius, never to be heard of again.
Mayken Hendricksz van den Bergh, Hans Ras
Gerrit was the first Vryburgher to marry a Cape-born woman – Jannetjie Thielemans, the 15-year-old daughter of my ancestral great-grandfather Thieleman Hendriks[9]. Mayken[10] Hendricksz van den Bergh, Jannetjie's mother was a real 'skeleton in the cupboard' – a bad piece in my DNA jigsaw!
She and her husband Thieleman were involved in an ugly brawl that developed after they collided with the bridal wagon of Hans Ras and Tryn Ras, Dedrie's Ras[11] ancestors.
Thieleman was the driver. The bridal wagon was filled with wedding guests. They were all filled with the spirit of the impending wedding and a few flagons of Cape brandy. Curses and the foulest of language followed. Then Mayken 'lost it' and grabbed a fistful of Tryn's hair and pulled a clump of her hair out. The brawl escalated with all parties getting involved. Thieleman jumped off, brandishing a knife and lunging at Hans – the blade entering his rib, fortunately missing vital organs – so the charge sheet reads.
It was also the first recorded vehicular accident at the Cape.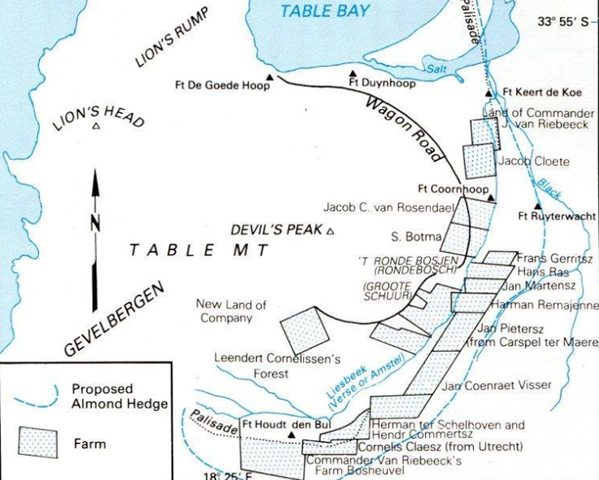 Figure 30: Hans Ras Property
That was one of many incidents Mayken was involved in. She had the foulest of mouths, and involved in many court cases. She would shout and scream and abuse her accusers in front of the VOC Court of Justice members.
Mayken 'lost it' completely again in 1673 when Thieleman died. She got involved in illicit bartering, smuggling and thieving. The first VOC Fiscal, Michiel Gleve and the local police warned her to stop – threatened her with the gallows if she persisted. On the 1st of June 1677 she stole some rice and was caught.
That was 'the last straw' as far as the community was concerned. But there were critical food shortages at the time – everyone stole from the company warehouses and gardens, the ships and each other.
Her sentence?
A rice sack was thrust over her head and paraded around the village. She was then severely flogged in public and branded with the sign of the gallows on her back. But that was not enough! She was then expelled to Robben Island to keep her out of mischief and sent to Mauritius on the small boat 'De Bode' on 27th July 1677.
In the VOC archival notes 'Notes of the Resolutions of Cape Council', she is described as a terrible thief, as a 'pest' and 'cancer' in the community (Dutch – 'diefachtige wijff, ijder tot een cancker en pest sijnde'.
By all accounts, the 'refreshment' station was a heinous, outrageous place. Mayken's sentence was a case of 'the pot calling the kettle black'. The Fiscal, who took the moral high ground, was himself a corrupt fraudulent man – unfortunately the chief law officer. He had a 'geweldiger' (a 'violence queller') and a gang of slaves to help maintain law and order – but chiefly, to defend the property and ensure a decent VOC revenue.
The Fiscal received a third share of the hefty fines imposed for the slightest offence. He grew his fortune through obsessive or dishonest use of his office. The Fiscal was described as an 'acute lawyer with the greedy watchfulness of the customs officer'. To this day a butcher bird in South Africa, is called a 'Jan Fiskaal'.
Tryn Ustings
The brawl that ended in the stabbing of Hans Ras, involved Tryn Ustings[12], Dedrie's ancestral great-grandmother. She was born in Lubek (Germany), a fierce, bold woman – one of the most notorious settlers at the refreshment station. She lost her husband when she was 22 years old, disguised herself as a man and stowed away on a sailing ship heading for the Cape in 1662 – then a wild, dangerous far-flung corner of the world.
A desperate, lonely Vryburgher soldier, Hans Ras married Tryn within two months of her arrival. They had nine very happy years together, when Hans was killed by a lion.
Legend has it that Tryn killed that lion on that very same day. This story, passed down through the generations and told by the 'old timers' may just be true!
The story told starts with a Khoikhoi man, Witbooi galloping into the farmyard, jumping from his pony and screaming for Tryn to come – the 'baas (boss) had been injured'!
Tryn had heard the shouting from her 'agterkamer' (backroom) and ran out followed by her little brood, Hendrik, Nicolaas, Maryna and Johannes. It was Witbooi, the Khoikhoi herder – with bad news. She had been apprehensive and had misgivings from early in the morning when Hans and Witbooi had set out to hunt a lioness that had been at their cattle every night for that week.
The lioness was a well-known predator in the area, a wily beast indeed. The previous night's events had them all on edge. Her grunting and roars were heard all night as she circled the little stone kraal where the cattle shuffled and snorted in fear. She let out grunt after grunt as she stealthily moved outside the 'voorhuis' (lounge area) signalling her intent with those unmistakeable grunts.
That morning Hans and Witbooi saddled up the two Javanese ponies which the Governor had given them to use on patrol against the thieving Khoikhoi. It was not a good day for such a hunt as a strong 'southeaster' was blowing, raising clouds of dust that filtered out the rising sun. They were determined to track the beast upwind so that she would not detect them.
He tied his long, heavy matchlock musket (Figure 28, Page 57) onto his saddle together with the forked stick he needed to rest the barrel on. He was confident that he was going to get the lion – after all, the musket was known to kill at range of 1000 'voet' (300 metres) – he felt he could not fail.
Hans was adequately prepared with twelve charges of powder in his bandolier slung over his shoulder. Witbooi would surely find the tracks of the 'vermin' and sight the 'beast' so that he could set himself up well within the 300-metre distance. This would do the job. He checked that the fuse and powder in his satchel were dry.
He kissed Tryn goodbye and told her not to worry. He comforted her that they would be back soon as he they had an idea where the lioness had her den, which she shared with other members of the pride. They set off with the reassurance that, 'with Witbooi's tracking expertise and his own experience with the musket, they would rapidly dispense with the lioness – and then with the whole pride'!
Witbooi did find the tracks, not too far from the house. They led to a thicket close to the side of a small 'kopje' (hillock). Witbooi's keen eyes saw the yellow-gold patches through the black and green patchwork of the thicket, some fifty metres away. He beckoned to Hans, slowly waving his hand.
They were upstream of the lions, with the southeaster blowing so hard that the dust stung their faces and they had to squint to see the beast. They were going to take this one first. They would dispense with them one by one!
Nothing could deter Hans now. He dismounted and slowly twisted the forked stick into the ground and secured the musket in the fork. His eyes watered and stung with the dust. But he could still see. He carefully primed the musket, opened one of the wooden cylinders on his bandolier and poured the powder down the barrel, making sure that the powder was not blown away. Then he put the irregular lead ball from his pouch and a wad of tow in the barrel and forced the contents home with his rammer.
Then he was ready – he steadied the musket in the fork, carefully aimed at the centre of the yellow-gold patchwork image. The wind gusts were disconcerting, but his grip on the musket was firm and his aim was steady. He pulled the trigger and waited for the billowing flash, smoke, and then the whistle of the projectile, followed by the thump of the ball. He jumped up, hoping that that lead ball had done its job, produced a gaping hole in the lion's midriff. Those musket balls packed a massive punch, cutting their way through flesh and bone, causing great injury, if not instant death as organs were destroyed.
The problem with those muskets was that they were highly unreliable, inaccurate and took about two minutes to reload! There is not much time to react when a lion charges – and, in this case, that is what happened.
Hans was unaware that the lead ball had only caused minor injury, to the lion's thigh. The wounded, enraged beast was onto him before he had time to reload. Witbooi was lying low on his stomach a few metres from where Hans lay. When the lion charged out of the thicket it was too late!
The beast covered the fifty metres before Hans had time to ram the charge down. But Witbooi was not the target – Hans was. Witbooi jumped up as the lioness landed on Hans and dug her powerful incisors into Hans' shoulder and chest.
Witbooi sprinted to his pony, jumped into the saddle and galloped away to the house in a cloud of dust swept up in front of him by the howling southeaster. Witbooi jumped off the horse, crying he said, 'the boss has been taken by the lion'. She screamed 'where is he?'. Witbooi pointed in the direction he had come from. She jumped onto his horse and galloped off into the howling southeaster.
The story ends with Tryn coming back, her hands, clothes and hair bloodied – 'I have killed her – she has slain my Hans – now I have slain her', she kept saying over and over.
But Tryn did not have much luck with her following husbands. After Hans was killed, Tryn married Fancois Champelaer van Ghent, a rather unsuccessful farmer, who was soon after killed by marauding Khoikhoi in July 1673. Her next husband was Swedish-born Laurens Cornelissen, and she moved with her four children to live with him in the Table Valley, where they had another two daughters.
Laurens died tragically underfoot of an elephant while hunting hippos at nearby Zeekoeivlei.
She had lost faith in the survival of her husbands. If they were not killed by wild animals, the Khoikhoi got them!
Tryn decided that she wanted to acquire some land and farm by herself. Gossip at the time indicated that Tryn and the Governor, Simon van der Stel had a thing going. This was never proved. But the Governor liked Tran and her strange ways and so granted her twenty five morgen of land at the foot of Steenberg Mountain. Some say that this was a gift by the Governor for 'services rendered'. Whatever transpired, she was the first woman in South Africa to own land.
Today, the Steenberg farm is owned by the mining company JCI which developed it into a championship golfing estate, five-star Steenberg hotel and premier winery. There is the story of the ghost of Tryn Ras which visits the historical buildings and can be seen lightly walking through the vineyards on a moonlit night.
Gerrit Jansz Visscher (Visser)
My ancestral great-grandfather Gerrit[13] Jansz Visscher (Visser), the son of 'Grof' Visscher, arrived at the Cape in 1658 on the ship Dordrecht with his mother Geertje Aeltje.
Gerrit took on the daunting task to start clearing the forested land and planting vines. Within six years he had planted 1000 vines – which had not produced a drop of wine by 1688.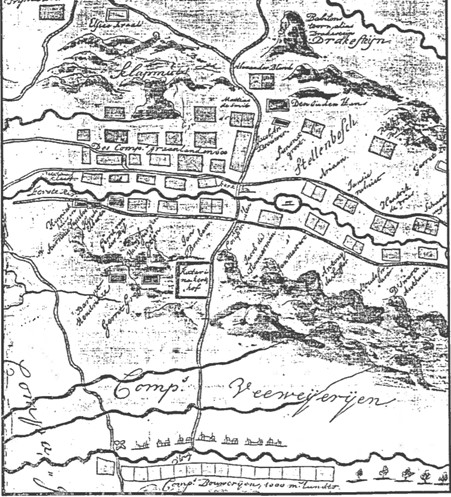 Figure 31: Blaauwklippen circa 1682
Gerrit sold the farm Blaauwklippen to my ancestral great-grandfather Guillaume[14] Nel (Neel) in 1690.
Nowadays many Afrikaners believe that historical connections with the winelands of the Cape is a good 'second best' to being connected to European nobility. It may impress some readers that our slim connection to Blaauwklippen, is also a connection to the world-class Zinfandel wine which I hope to taste someday!
Zinfandel (Figure 32 below), also known as Primitivo is grown in over ten percent of Californian vineyards. For wine loving 'buffs' – this wine is equivalent to the Croatian grapes Crljenak Kaštelanski and Tribidrag, as well as to the Primitivo variety grown in Apulia (the 'heel' of Italy).
Figure 32: Zinfandel Blaauwklippen
The grapes produce a robust red wine winning prizes on the international market.
For those steeped in the art of viticulture, Blaauwklippen Stellenbosch terroir[15] (viticultural term) is due to the mineral-rich fertile granite soils which have always produced superb red wines in the area – traditional Bordeaux cultivars. If only Gerrit knew how valuable that piece of land was – he may never have sold it to Guillaume Nel.
---
[1] My infamous 8th generation great grandfather – Figure 56: My Gerrit Visser Family Tree, Page 206.
[2] Geertje Aeltje Gerrit – my 9th generation great-grandmother.
[3] Dedrie's 8th generation great-grandfather – Figure 61: Dedrie's Gerrit Willemse Family Tree, Page 195.
[4] Dedrie's 8th generation great-grandmother – daughter of freed slave Catrijn van Malabar.
[5] Thus, a slave behind an ox drawn plough, would take five mornings to till the area they sowed with wheat.
[6] Arquebus is derived from the Dutch word Haakbus ('hook gun'). The term arquebus was applied to many different forms of firearms from the 15th to 17th centuries, it originally referred to a hand-gun with a hook-like projection or lug on its under surface, useful for steadying it against battlements or other objects when firing..
[7] My 9th generation great-aunt – Figure 106.
[8] My 9th Generation great grandfather – Figure 107.
[9] My 9th generation great-grandfather – Figure 104.
[10] My 9th generation great-grandmother.
[11] Dedrie's Ras ancestors – Figure 58: Dedrie's Ras Family Tree, Page 206.
[12] Figure 61: Dedrie's Ras Family Tree, Page 192.
[13] My infamous 8th generation great grandfather – Figure 56: My Gerrit Visser Family Tree, Page 206.
[14] My 8th generation great grandfather Guillaume Nel (Neel) – Figure 57: My Nel Huguenot Family Tree, Page 206.
[15] The land from which the grapes are grown supposedly imparts a unique quality discernible to those who qualify as expert 'wine tasters'.